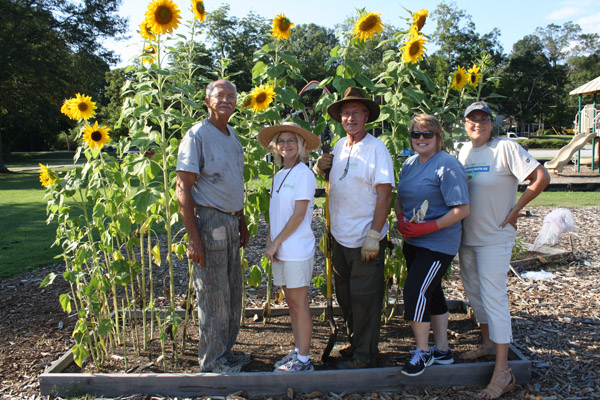 Several local churches, schools and community groups have partnered with Get Healthy, Live Well and Keep Carroll Beautiful to start their own community gardens. Some of the gardens grow food for local needy families and others focus on educating young people about growing and eating fresh, healthy vegetables and fruit.
"We're bringing community partners together to help feed our neighbors and reach people who need fresh food," said Denise Taylor, senior vice president and chief community health, strategy and brand officer for Tanner Health System. "It's also a wonderful opportunity to educate the next generation about growing fresh vegetables and fruit."
The effort kicked off in April 2014 at The Home Depot in Villa Rica, where the groups built raised beds for their gardens throughout the day. Get Healthy, Live Well provided the garden supplies and soil, and employees from The Home Depot  and Walmart.com taught the groups how to build the raised beds and helped with construction.
There are 11 community partners who were selected to receive support through Tanner's Get Healthy, Live Well initiative, and they will be working on a total of 26 garden beds. The gardens required 780 bags of soil and 16 rolls of weed barrier, and they grow a wide variety of vegetables and fruit. Some of the crops include tomatoes, peppers, squash, okra, corn and strawberries.
"We're excited about having another opportunity to bring our community together to initiate positive change and improve the health of many residents of west Georgia," said Taylor.
2014 community garden partners

Each community partner is growing a garden to meet specific needs and goals as defined by its membership. A brief overview of each garden is included below. To see photos of the various garden dedication ceremonies and planting events, click the links below.
Bowdon Elementary School is growing two garden beds (4′ x 10′ x 8″). They opted to plant fast-growing items for summer, such as radishes, cherry tomatoes, squash, cucumbers and blueberries. The garden is providing an enriching educational experience for the children and promises to provide some healthy and tasty snacks, too.
Carroll County Boys and Girls Club used 40 bags of soil for their two garden beds, which are growing tomatoes, a variety of peppers and peas, okra and more. They are also learning about herbs as they planted seeds for carrots, radishes and thyme. The garden project fits perfectly with the mission of the Boys and Girls Club, which is to "save and change the lives of children and teens, especially those who need us most, by providing a safe, positive and engaging environment and programs that prepare and inspire them to achieve great futures."
Fairfield Plantation planted four garden beds using 80 bags of soil to sow seeds for tomatoes, potatoes, cucumbers, lettuce, spinach, a variety of peppers and more. Herbs included chives, dill, basil and sage. Sunflowers and nasturtium flowers made a cheery addition to the garden.
Heard County 4-H will be planting three garden beds to help educate young people about fresh vegetables. They are focusing on tomatoes, which yield lots of juicy produce. The gardens are a tremendous hands-on learning experience, and they also teach kids to appreciate the time and effort that goes into growing fresh produce, said Dinah Rowe, University of Georgia extension coordinator for Heard County. In addition, 4-H will have a health and nutrition class where the students will learn more about fresh veggies.
"It's important that our youth see firsthand what it means when we say, 'from the dirt to the table,'" said Rowe. "Many kids think that everything just comes from the local grocery store." After harvest, they plan to cook a meal with their vegetables.
Hope Fellowship Church planted four garden beds using 80 bags of soil. They are growing squash, cucumbers, tomatoes, okra, radishes and zucchini. Their garden also features herbs such as oregano, chives, basil and cilantro.
Jones Elementary School has eight garden beds using 160 bags of soil for a variety of vegetables like lettuce, radishes, broccoli, cucumbers, corn, carrots and okra.
Last Shall Be First Ministries in Villa Rica planted three garden beds featuring tomatoes, cucumbers, peppers, melons, strawberries and collard greens.
Lifeline Mission, an outreach program of Midway Church, will be growing food for the needy. The group, which has a strong history of helping the poor in west Georgia, has been growing vegetables for the past few years—more than 8,000 tomatoes a year—to help feed the poor. They also grow tomatoes, corn and okra. This year, they were able to increase their corn crop because of the support from Get Healthy, Live Well.
"We're a community and so where there is need, we want to help as much as we can." said Paul Gentry, director of Lifeline Mission.
Gentry is very pleased to see more community groups pitching in to help grow food for the needy. Each year, Lifeline's garden attracts volunteers from other church groups, youth groups and community organizations, and Gentry says the new community gardens will help engage volunteers at other gardens across the community.
"I like how this effort brings everyone together, not just a Baptist church or a Methodist church, but a whole bunch of community members working together to help those in need," said Gentry.
Major Temple Garden Club planted four garden beds using 80 bags of soil to sow the seeds for veggies like peppers, tomatoes, pole beans, eggplant, beets and turnips. They are also growing herbs such as dill, cilantro, cumin and basil.
Piney Grove Baptist Church planted 12 beds for growing squash, tomatoes, green beans, peas and more. The harvest will be given to needy families in the congregation, with any extras donated to the poor in the neighborhood near the church.
"It's a great way to help provide for the need in our community, while also encouraging everyone to eat healthier and eat more vegetables," said the Rev. Charles Thomas, pastor of Piney Grove Missionary Baptist Church.
The church is also using the garden as an educational opportunity between generations. Senior citizens are organizing a free workshop to teach younger members of the congregation about canning and freezing vegetables, Thomas explained.
University of West Georgia planted five garden beds using 100 bags of soil to grow okra, tomatoes,cucumbers, peas, kale and cilantro.